CHILDREN ARE ONE OF GOD'S GREATEST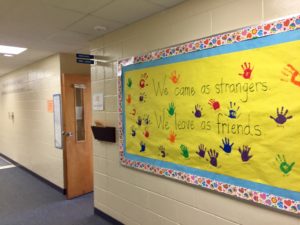 BLESSINGS.
They are also an awesome responsibility, since their future, to a very great extent, lies in our hands.  The task of being a parent is not an easy one, and it's not getting any easier.  Thank God we don't have to do it alone!
PRESCHOOL STATEMENT OF MISSION
The mission of Bethel Ev. Lutheran Preschool is to teach young children and their families about God's love and His plan of salvation, to guide them in applying their faith to life and sharing that faith with others, and to provide them with spiritual and educational support. 
OUR PRESCHOOL PROGRAM
Bethel Lutheran Preschool is owned and operated by Bethel Ev. Lutheran Church and is established as part of the total educational program of the church.  Our preschool is fully licensed by the State of Michigan. The 2 day program, or first year preschool, is geared for 3 year olds who are experiencing the preschool setting for the first time.  Our 3 day program, or second year preschool, is for the 4-5 year olds and is geared toward Kindergarten readiness.
OUR OPTIONS ARE:
Three-year-old class (age 3 by Sept. 1)
Tues./Thurs. (9:00 am – 12:00 pm)         Tuition: $65/month – $585/year
Extended Three-year-old class (age  by Sept. 1)
Tues./Thurs. (8:00 am – 12:00 pm)         Tuition: $85/month – $765/year
Four-year-old class (age 4 by Sept. 1)
Mon./Wed./Fri. (8:00 am – 12:00 pm)    Tuition: $105/month – $945/year
CLASS SIZE:
Our limit is 16 children in the 4 year old program and 14 in the 3 year old program.
TEACHER: Our preschool teacher is Mrs. Jodi Virant.
DOWNLOAD the application to fill out.