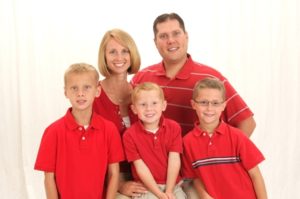 Pastor Mark Luetzow was born in Fort Bragg, N.C., to Dr. and Mrs. Thomas Luetzow.  He is the second of their three children. His family spent time stationed in Indianapolis and Louisiana during the first few years of his life before returning to Wisconsin and settling in the Appleton area.  He attended Martin Luther Grade School in Neenah, WI. He attended Northwestern Preparatory School (now Luther Prep) in Watertown, WI for his high school education, graduating in 1995.  Upon graduation from NPS, Pastor Luetzow enrolled at Martin Luther College in New Ulm, MN and graduated four years later in 1999 with a Bachelor of Arts degree.  He then enrolled at Wisconsin Lutheran Seminary that fall to begin his graduate level studies for the pastoral ministry.  His vicar year was spent at King of Kings Lutheran Church in Maitland, FL. It was there under Pastor Zahn's mentorship where Pastor Luetzow developed a love for reaching the lost and gained valuable experience working with teens.  On May 21, 2003, having completed the prescribed pastoral training for the Wisconsin Evangelical Lutheran Synod, he received a Master of Divinity degree from Wisconsin Lutheran Seminary in Mequon, WI.
In May of 2003, Pastor Luetzow was assigned to Trinity Ev. Lutheran Church in Kaukauna, WI.  He was priviledged to serve there for the next seven years.  In January 2010, he accepted the divine call to serve as the next shepherd of Bethel Ev. Lutheran Church in Bay City, MI, and was installed on Sunday April 18, 2010.
Pastor Luetzow and Bethel Bode were married on July 23, 2000.  Bethel also graduated from Martin Luther College in 1999 with a Bachelor of Education degree.  She has taught 1st., 2nd., and 5th grades in various Lutheran Elementary Schools before "retiring" to raise their family.  They have been blessed with three sons: Nathan, Andrew, and Thomas.   Bethel enjoys playing the piano and organ and teaching piano lessons.
Pastor Luetzow, when he finds time for relaxation, enjoys  most sporting activities, but has a love/hate relationship with the game of golf.  He loves golf; golf hates him.  He is a die-hard Packer fan but leaves his college loyalties up for persuasion.