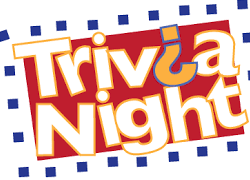 Trivia Night 2020
WHEN
February 29, 2020
6pm- 9pm
WHERE
Bethel Lutheran School Gymnasium
749 N. Pine Road, Bay City, MI 48708
Free Childcare for Participants | Bake Sale | Silent Auction | 50/50 Drawings | 6 Player Teams | Fun and Fellowship
COST:
$10 per person
Limited to 6 people on a team ($60 for a team of 6).
Members and friends of members are welcome to participate! You must be high school aged or older to play.
Participants are welcome to bring food and non-alcoholic beverages for their table for the evening.

Childcare is free for participants of Trivia. If you are not playing, but your child(ren) would like to attend, the cost is $10 per child, or $25 per family. There will be activities followed by a movie with popcorn provided.
All proceeds benefit the Christian Education Association (CEA) of Bethel Lutheran School.
Sign up here. Contact Jenni Thunberg if you have any questions about this event.